Bio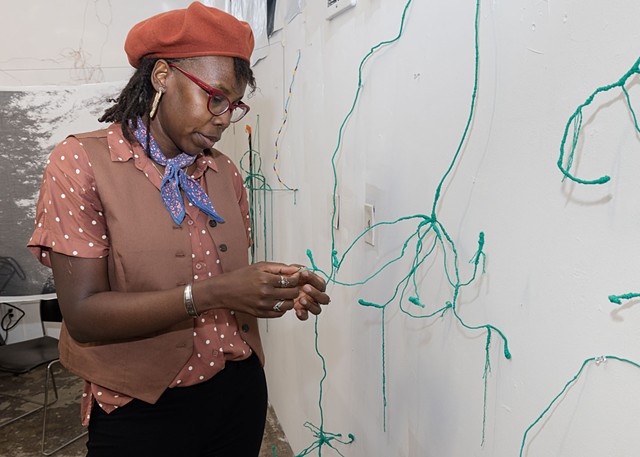 Photographed in studio at Smack Mellon, Brooklyn, NY. Photo: Etienne Frossard.
Miatta Kawinzi (she/her/they/them) is a Kenyan-Liberian-American multi-disciplinary artist, writer, and educator raised in Nashville, TN and Louisville, KY and based in Brooklyn, NY since 2010. Her work explores hybridity within the African Diaspora and the re-imagining of the self, identity, place, and culture through abstraction and poetics. She received an MFA in Studio Art from Hunter College and a BA in Interdisciplinary Art & Cultural Theory from Hampshire College.
Recent exhibitions include "in pieces…" at PS122 Gallery, New York (2023); "States of Becoming" at The Africa Center, New York (2022-23); "The Condition of Being Addressable" at Institute of Contemporary Art, Los Angeles, CA (2022); and "Soft is Strong," solo exhibition at CUE Art Foundation, New York (2021). Their work has been exhibited, screened, and/or performed at Microscope Gallery, Center for Art, Research and Alliances, Times Square Arts, BRIC, Studio Museum in Harlem, and Maysles Cinema (all in NYC), Pan African Film Festival with LACMA (CA), Ann Arbor Film Festival where she received the No. 1 African Film Award (MI), and New Orleans Film Festival (LA).
She has been awarded artist residencies in spaces including Residency Unlimited (Brooklyn, NY), Smack Mellon (Brooklyn, NY), MacDowell (Peterborough, NH), POV Spark in partnership with the Smithsonian's National Museum of African American History & Culture (NYC, DC, and Venice, Italy), Red Bull Arts Detroit (Detroit, MI), the Cité internationale des arts (Paris, France, with Lower Manhattan Cultural Council), Beta-Local (San Juan, Puerto Rico), the Bemis Center (Omaha, NE), and the Bag Factory (Johannesburg, South Africa). Additional awards include the 2021-22 Jerome Hill Artist Fellowship, the 2021 New York Artadia Award, the 2019 Bemis Center Alumni Award, and the 2018 Barbara Hammer Lesbian Experimental Filmmaking Grant administered by Queer|Art. She has taught at the School of Visual Arts in New York, Cornell University, Hampshire College, and the University of Richmond. She has also worked as a museum, youth, and community arts educator throughout NYC.